Since 2010, Sophie and Guillaume have integrated shareholding as part of Quéplast's succession process. Today, at the end of 2018, they have successfully completed this project.
Sophie and Guillaume's combined philosophies provide the essential ingredients for sound business management.
About Guillaume Joly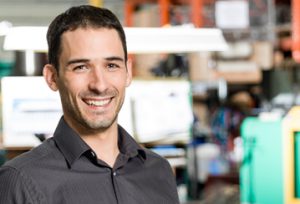 With this appointment, Guillaume has become the President and CEO of Quéplast after having held the positions of Quality Manager, Project Manager and Plant Manager between 2005 and 2018.
As the new CEO, he cares deeply about rigour and quality. Here is his take on the business: "We are committed to meeting the needs of our customers and partners, both in terms of product quality and communication as well as in terms of meeting timelines. Our team has the skills to meet our customers' needs."
About Sophie Potvin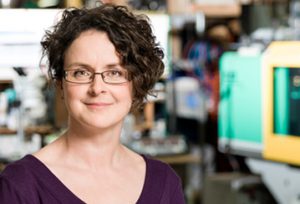 Sophie has been with Quéplast since 2000. She held the positions of Shipping, Methods and Planning Manager and Production Coordinator until 2018. She now leads Production and Human Resources, and has become a shareholder and Director of the company.
Her philosophy is simple. It's about listening to colleagues and continuous improvement. According to her, "listening is an essential skill that helps to better understand the needs of the team. It is important to allow employees to develop their talents and express their ideas. This is the foundation of continuous improvement.
About Quéplast
Quéplast is:
A 30-person team whose main value is respect

Communication-based work methods that leverages everyone's strengths

An environment that fosters honesty with staff, customers, suppliers and other partners

A plastic injection-moulding company specializing in value-added technical products and microinjection
A constantly-growing company
Sophie, Guillaume and the entire team contributed to the company's growth in parallel with the transfer process, as they continued the optimization of work in all of the company's departments.
Quéplast is a close-knit team in which employees contribute their skills and know-how. This has enabled the company to maintain, even today, its growth and gains in productivity.
Sophie and Guillaume are entrepreneurs who have the qualities, skills and leadership necessary for the continuity and growth of Quéplast Injection.